เนื่องจากการควบคุมระบบ Motor และ Pump ต้องการอุปกรณ์ที่มี
ความน่าเชื่อถือไว้ใช้ในการจัดการสภาพแวดล้อมที่เลวร้ายและมีสิ่งสกปรกสูง จึงทำให้เป็นสิ่งจำเป็นสำหรับผู้ใช้งาน ผู้ผลิตตู้สวิตช์เกียร์ ผู้รับเหมาและ โรงงานผลิต หลายคนเริ่มมองหาเทคโนโลยีสุญญากาศมากขึ้น เทคโนโลยี สูญญากาศจึงกลายเป็นทางเลือกหนึ่งเพื่อลดการหยุดการทำงานของอุปกรณ์ ไฟฟ้าในสภาพแวดล้อมที่เลวร้ายและสกปรก โดยปกติแล้ว Contactor ถูกใช้เป็นอุปกรณ์สำหรับเปิด-ปิด Motor Starter และ Pump Control โดยจะใช้หลักการแยกหน้าสัมผัสออกจากกัน และใช้อากาศเป็นตัวดับอาร์ก ในทางตรงกันข้ามนั้น Vacuum Contactor จะเป็นอุปกรณ์ที่มีหน้าสัมผัสอยู่ภายในกระบอกที่ปิดทึบ หรือที่เรียกกันว่า Vacuum Interrupter (VI) ทำหน้าที่ขัดขวางไม่ให้อากาศเข้ามาภายใน หน้าสัมผัส เมื่อหน้าสัมผัสถูกแยกออกจากกันแล้วเกิดอาร์กขึ้นนั้น จะใช้การ ดับอาร์กแบบลดความดันลง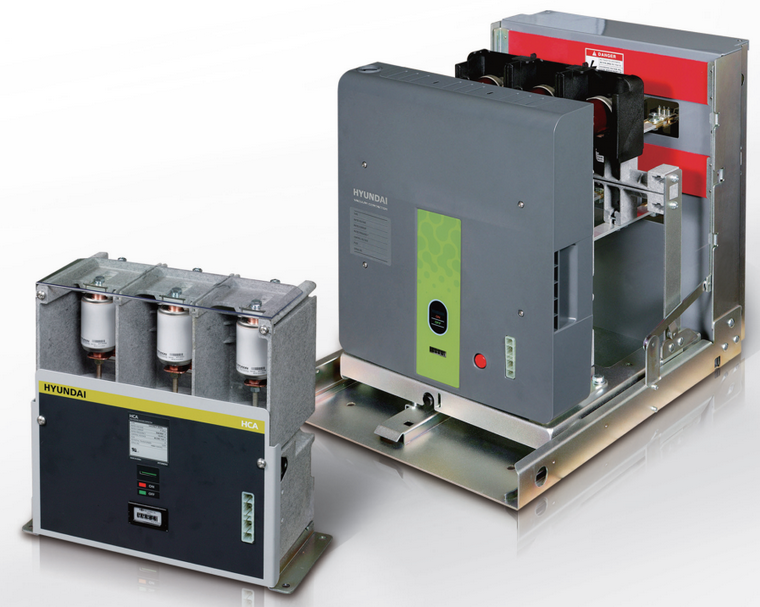 Vacuum Interrupter (VI)
Vacuum Interrupter คือ ผลิตภัณฑ์ที่มีหน้าสัมผัสอยู่ในภาชนะสุญญากาศที่ปิดทึบ เพื่อตัดต่อวงจรไฟฟ้า (Opening/Closing) ที่แรงดัน และกระแสสูง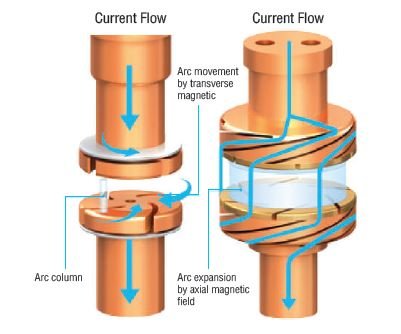 High Performance
High insulation performance in vacuum–able to cut off large
current even in short-distance

Less arc and low contact consumption

Optimized design–compact and lightweight
Minimized Maintenance
Eco-Friendly
Compliant with International Standards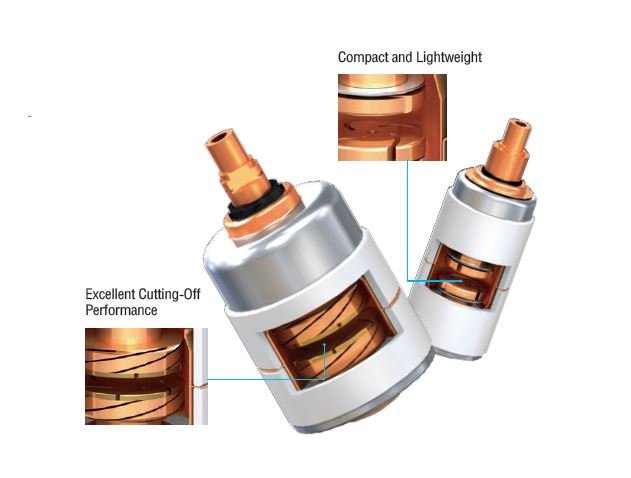 Vacuum Contactor
เหมาะสำหรับการใช้งานที่แรงดันสูง และในสภาพแวดล้อมที่เลวร้าย เช่น Motors, Transformers, Capacitors, Reactors, Resistive Loads อื่นๆ (Generators,
Pumps, Variable Frequency Drives, Feeders, Power Transmitters and Switchgears) และเหมาะกับอุตสาหกรรม ต่างๆ เช่น Utilities, Industrial, Commercial, Mining, Oil & Gas, Medium Voltage
Internal and External Components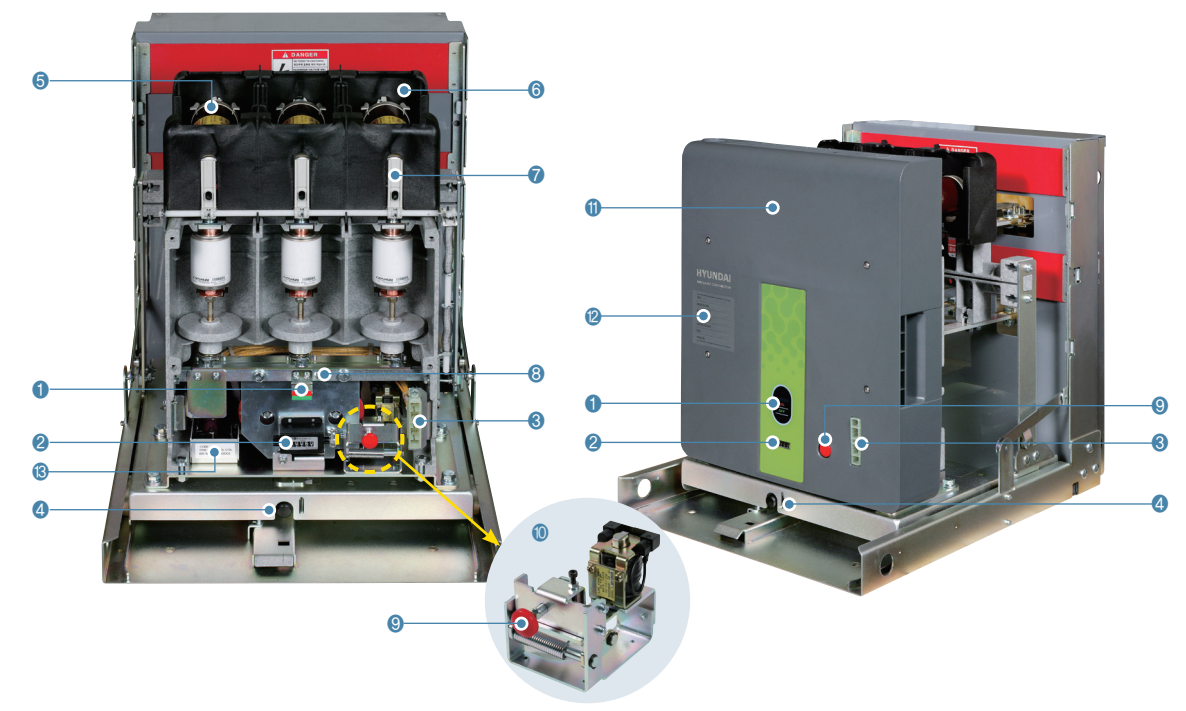 The Design of the Cradle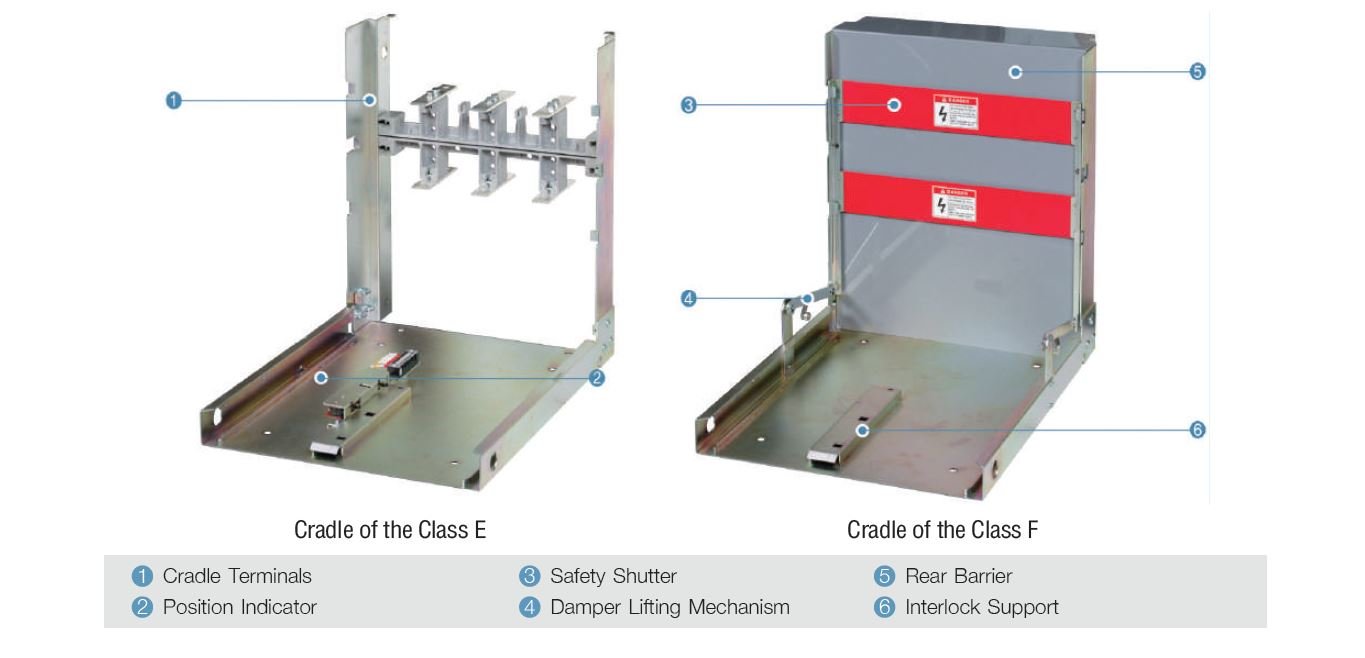 ทำไมต้องเลือกใช้ Vacuum Contactor "HYUNDAI"
Vacuum Contactor HYUNDAI เป็นผลิตภัณฑ์ขนาดกะทัดรัด ปลอดภัย และใช้งานง่าย สอดคล้องกับมาตรฐาน IEC, NEMA อุปกรณ์ ผ่านการรับรองตามมาตรฐาน UL และ KAS Vacuum Contactor HYUNDAI เป็นอุปกรณ์คุณภาพสูงที่ใช้กันอย่างแพร่หลายทั่วโลก มีเทคโนโลยีขั้นสูงที่ช่วยให้ผลิตภัณฑ์ใหม่นี้
มีความน่าเชื่อถือมากยิ่งขึ้น
Easily Removable Fuse
DIN fuse can be easily removed Use a spring-loaded contact holder that does not require a bolted connection.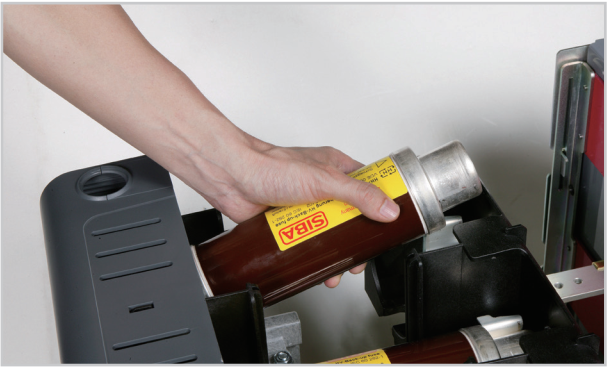 Anti Pumping
The control unit has a built-in re-lock switch-on, provides a
one-time closing and opening in case of simultaneous receipt of external and local signals.
Power Supply of Different Voltage Classes

The standard operating voltage is AC/DC 100-125V and




AC/DC 200-230V.

It is possible to use one control unit for two types of voltage.
Noiseless
Reduction of Current Consumption
Electricity consumption was reduced by 40% compared to existing similar

devices by controlling the current using a PWM system.
The use of Automatic Position Locks

To move the contactor in the cradle, you must Lift the locking rod and press the button. When the contactor reaches the TEST or other position, the lock will automatically trigger the position.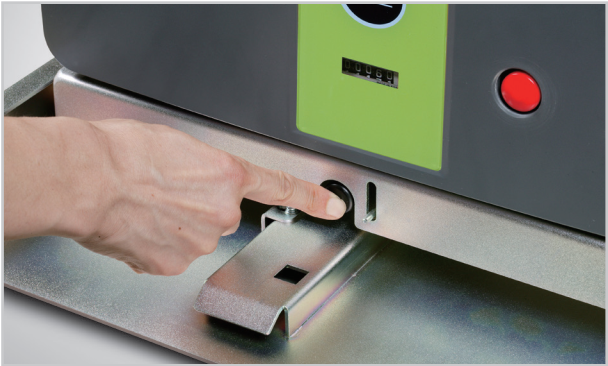 Product Certification

The device is designed in accordance with IEC, NEMA standards.

Certification in the Korean Electricity certification of KAS. No separate testing is required.

UL certification in accordance with UL347; product can be used on American and Canadian markets.